Indian Marble Tiles: Everything You Need to Know
Posted on Sep 14, 2021
Indian marble is synonymous with quality and elegance. It shines through time and accentuates the interiors, including hallways, floors, slabs, bathrooms, and kitchen tops. Marble tiles bring the desired finish to your home and exude strength. Indian marble tiles are the first choice of many people while renovating their homes.
Indian marble boasts its foundation since the times of the astonishing Taj Mahal. This exotic natural stone is quarried from the mines in different Indian states, such as Rajasthan, Gujarat, and Madhya Pradesh.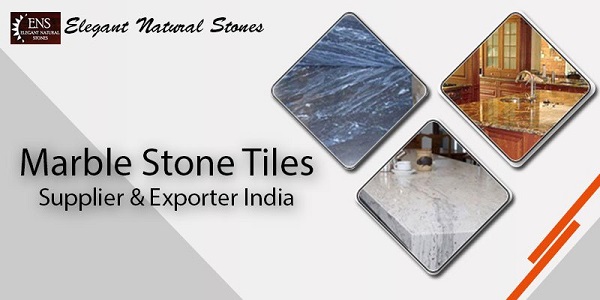 Indian Marble Tiles
Indian marble tiles are carved from the exotic and natural Indian marbles and are available in beige, white, pink, and green color. Let us go through the variety of Indian marbles that make the tiles shiny, durable, and priceworthy.
Opal White Marble: A highly demanded tile marble that can be easily found in different sizes. It owes its popularity to serene texture and milky-white color.
Makrana Marble: A white, quality marble mined and manufactured in the urban city of Makrana, Rajasthan. It is known for its shine and sturdiness and is used for flooring and wall cladding.
White Sangemarmar Marble: It derives its name from the Sangemarmar Patthar (or stone), which is known for its elegant finish and pure white element. It bears heat-resistant properties and can withstand extreme weather conditions.
Albeta White Marble: It is the oldest, quality Makrana marble with no chemical element in its texture. It boasts an excellent finish and requires no polishing.
Use of Indian Marble Tiles
This information keeps you aware of the usage and significance of the Indian marble tiles. You must know which marble suits your home and how durable it stands against fluctuating weather conditions.
Hallways: You pass through your hallway without noticing its significance. Hallways add structure to your home. Using Indian marble tiles assures you that extra shine due to its solid texture. It depends on you to pick the color that complements your home décor. Indian marble tiles are loaded with color options, ranging from pink and beige, to different elements of the white color.
Flooring: It goes without saying that flooring requires the utmost attention and care from the homeowners. Choosing any Indian marble tile variant, such as Opal White or Makrana marble adds years to your floor. Moreover, you can find it easily anywhere due to its huge demand.
Kitchen: Are you looking to style your kitchen? Let us help! Go for Indian marble tiles to deck up your kitchen tops and backsplash. Your kitchen looks smart and sturdy, with different colors gracing the tiles.
Bathroom: Your bathroom area comes to use every day; therefore, it should not be left untreated. Such places require tough marble flooring that can last for years and exudes a sense of style. Indian marble tiles perfectly deck up your bathroom space.
Foyers: Your home entrance must speak of your great taste in home styling. It includes sturdy flooring and designer furniture, among other décor ideas. Consider Indian marble tiles to accentuate the look of your foyer (or lobby) that sets the trend for the architects.
If you're planning to revamp your home or office with Indian marble tiles, you can always connect with our team to avail cost-effective deals. Elegant Natural Stones is a trusted marble stone tiles supplier and exporter offering an excellent selection of natural stones.