10 Magnificent Man-made Structures of India
Posted on Sep 18, 2013
The ancient monuments of India speak high volumes of its royalty, power and rich culture. They are one of the prime reasons why tourists around the globe get enticed with splendor and charm of our sacred heritage. Most of the monuments built in India are of Sandstone as they are one of the best building stone.
Following tops the chart:
1. Taj Mahal– is located in Agra, Uttar Pradesh and is considered to be the symbol of love and is a masterpiece made out of white marble stone. This white mausoleum was built by Mughal emperor Shahjahan for his wife Mumtaz and is considered to be the most beautiful building on earth.
2. Ajanta Caves– is the 30 rock cut Buddhist cave of 2nd century BC and is located at a distance of 105 km from Aurangabad, Maharashtra. The architectural carvings dictate stories from life of Buddha and the Jatakas and the paintings and sculptures have been classified by ASI as finest surviving form of art in India.
3. Ellora Caves– were built by Rashtrakuta dynasty in between 5th and 10th century and is located at 30 kms from Auranagabad, Maharashtra. It is a world heritage site renowned for its monumental caves.
4. Hawa Mahal– was built by Maharaj Sawai Pratap Singh in 1799 and is located in Jaipur, Rajasthan. It is built in the form of crown of Lord Krishna and is famous for its pyramid form structure with 953 'Jharokhas' and have intricate designs.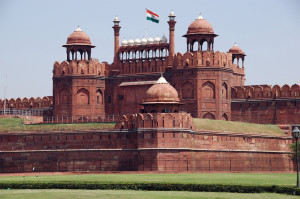 5. Golden Temple– was buit by Guru Arjan Dev in 1604 and is located in Amritsar, Punjab. The 'Adi Granth' is installed in the gurdwara which was gifted by Maharaja Ranjit Singh. This Hindu-Muslim architecture is surrounded by a lake which is fed by underground spring.
6. Red Fort– is also famous as 'Lal Kila' as is made of red sandstone walls. This 17thcentury Mughal creativity was built by emperor Shahjahan when he moved his capital from Agra to Delhi, it lies along Yamuna River and has been declared as the UNESCO world heritage site in 1978.
7. Mehrangarh Fort– is the largest fort in India and it lies 400 feet above the skyline of Jodhpur, Rajasthan.  Its construction was started by Rao Jodha in the year 1459 AD and it continued till 17 generations of the Rathore Rajput clan. It consists of several palaces, temples, chambers, intricately carved balconies and terraces and has 7 gates. It has been named as The Best Fortress in Asia by Time Magazine.
8. City Palace– was built by Maharaja Jagat Singh in 1743 in the heart of Udaipur, Rajasthan. This splendid palace overlooks Pichola Lake and it now serves as 5star palace hotel.
9. Khajuraho– is popular for its erotic sculptures of Chandale kings and is situated in Chhatarpur, Madhya Pradesh. It has largest number of medieval Hindu and Jain temples made of sandstone. It has been listed as UNESCO world heritage site and is one amongst the seven wonders of India.
10. Hampi– is the remains of Vijayanagra Empire in Karnataka and the ruins still attract many visitors. It is considered as a UNESCO world Heritage site.