A look at Top 4 Popular Variety of Indian Sandstone Tiles for Exterior & Interiors
Posted on May 4, 2016
The rock family of sedimentary stone has a classic stone, and this is none other than India sandstone. It comprises of feldspar or quartz because these are the most common minerals found on the earth's crust. This stone is obtained in wide varieties of colors, but the most popular color options are black, brown, tan, white, yellow, gray, red and pink. Some colors of the stone are identified strongly with the location. In order to give a retro look to your office, kitchen or the exterior or interior of your home, this is the stone that you should consider.
The stone mainly comprises of sand sized minerals or rock grains. Here are top 4 popular varieties of Indian Sandstone Tiles that you can use in the exterior and interior of your home.
1Â Â  Â Agra red sandstone-
This stone was used for making the great Red Fort and many other monuments across India. It has been famous since then, and it has acquired the name. It can be rightly used both for interior and exterior applications because of the higher grade of acceptance. The best part is that it does not show any weathering effects on the stone even for ages. The smooth and soft nature of the Agra red sandstone makes it easy to cut and carve. Additionally, it can even be used in handicrafts.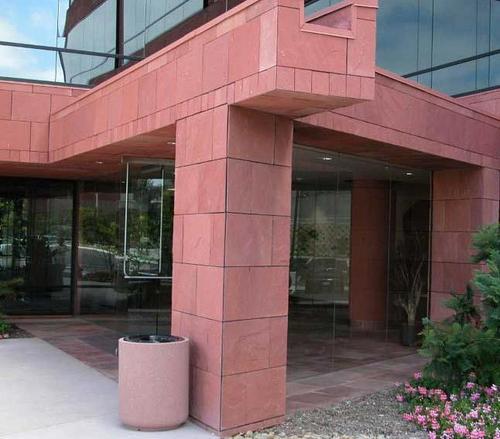 2Â Â  Â Autumn brown stones-
These stones can be easily chiseled into smooth surfaces, and they can be carved in various shapes. Extensively used for flooring and roofing along with paving and paneling, the Autumn brown sandstone has acquired huge popularity in the recent times. Apart from that, it is even extensively applied in pillar arches, doors, wall facings, window sills, fence posts and others. You can find the stone in various finishes like flamed, natural cleft, polished, honed, acid washed, antique finish and even sand blasted so that they can be used in different applications.
3Â Â  Â Golden flower sandstone-
This is one of the most popular paving stores mainly used for outdoor paving. It is highly resistant to chemical weathering, and is hard and durable. Apart from exterior applications, it can even be used for interior applications. Ranging from patios, footpaths, and paving tiles it is one of the most preferred stones for durability, beauty and strength. This stone is too available in varying finishes like flamed, natural cleft, polished, sawn, honed, acid washed, and sand blasted to suit different purposes.
4Â Â  Â Desert sandstone-
These Indian Sandstone Tiles are usually rough and tough, and they are mainly used for exterior applications. They mainly feature a wavy pattern and come with excellent varieties of matched colors for complimenting wide range of architectural styles. The stone can easily transform into usable products like cladding, tiles, basins, mosaics, etc. In addition to that, it is highly suitable for adding warmth, color, texture and individuality to your office, home and overall lifestyle. You can get them in different finishes like honed, polished, natural surface, brushed and sandblasted.
When you go for any of these varieties, make sure that you pick up a reliable supplier for quality stones.