Familiarize yourself with the versatility of Sandstone
Posted on Sep 12, 2013
Sandstone is one of the most-sought after stones that are being used in the diverse purposes related to the construction. There are various appealing properties of this stone that makes it quite an appropriate choice for the construction purpose. It is extremely durable and features elegance. The natural look offered by this stone makes it a favorite material to be considered for the construction of outdoor furniture and pathways. If you are interested about gaining an inkling regarding its versatility, here read on:
Outdoor paving: When it comes to choose from the alternatives related to the outdoor paving, the majority of the people prefer to opt for Sandstone as it features commendable durability. Apart from its resilience, it truly scores well on the aspect related to the aesthetic appeal. It is competent in withstanding adverse weather conditions and even it is capable of lasting through entire lifetime. This stone requires little maintenance, in order to maintain its original beauty. It can easily be maintained through the use of those water cleaners that use high pressure for cleaning the surface. For outdoor areas, the natural finish of sandstone provides a fascinating synchronized look that blends well with the natural color of the greenery of outdoor living area. Sandstone outdoor pavers provide a harmonized look with the patio, balcony and courtyard. It can also be used in building garden walkways and pathways.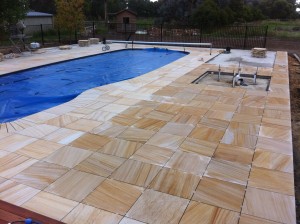 Garden décor: Raised garden beds enhance the décor of the garden. Sandstone pavers can provide an outstanding support to the garden beds so that they synchronize well with the complete décor of the garden. When steps are built for pergolas, balconies, courtyard gardens and other outdoor spaces, they increase comfort by providing proper accessibility. Besides that, they also add charm to the entire garden décor. Sandstone steps prove to be absolutely apt for the same purpose.  These days, water walls are quite in rage. By taking into consideration their growing popularity, the demand of sandstone wall fountains is witnessing an upward swing. It is the charm inherited by the sandstone water wall that invokes the classic and rustic look to the wall feature. Interestingly, this attractive natural stone can also be used in building a fascinating barbeque that is capable of blending very well with the rest of the garden décor.
Pool and pond area: Sandstone proves to be an excellent material choice for the pool area and its surrounding area. Due to featuring non-slippery surface, this stone prove to be extremely user-friendly. As far as clad ponds are concerned, this dynamic natural stone is extremely competent of withstanding the exposure to the water and other elements.

Wall cladding: Whether it is about walls or about fencing of an outdoor area, sandstone proves to be a great choice. Due to its durability, it can withstand the exposure of adverse climatic conditions, water and other elements. Another major attractive appeal of this stone lies in a fact that it creates a harmony in the entire outdoor area and requires little maintenance.