Granite care: An overview
Posted on Nov 19, 2013
Granite is one amongst most popular natural stones. This stone is adored for various appealing properties. Those properties include durability, low maintenance, availability in wide range of colors and textures, affordable price, etc. Granite kitchen countertops are appreciated for lasting long and for their budget-friendliness. Granite stone continues to be among frontrunners in the context of kitchen countertop. However, homeowners have begun showing inclination towards other offerings available in Granite stone that includes pillars, fountains, statue, planters, etc. Granite stone demands low maintenance and the same contribute towards its growing popularity. However, homeowner should not take this aspect for granted and should not avoid paying attendance towards its maintenance. If you too have a granite countertop in your kitchen or any other product made up of granite, you can enhance its longevity through following few smart tips. Let us have a look on those tips: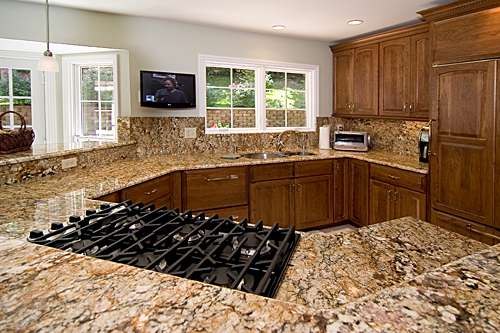 Daily cleansing:
Cleansing of Granite countertop is hassle-free. You just require a simple gentle glass cleaner. You can also use mild dishwashing liquid. In addition to that, you need to use a synthetic scrubbing pad. Generally, homeowners leave spills of cleaner for some time under this misconception that it will clean much faster and better. However, this tends to result in negative effect. Leftover spills further result into more stains. Thus, you need to wipe off that spills immediately. After you wipe spill off, you can dry the surface of countertop through using a soft cloth.
Remove stains through diverse techniques: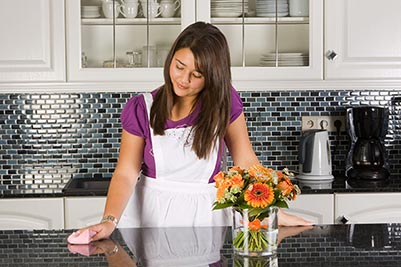 Your kitchen countertop cannot escape from numerous stains. Therefore, instead of being extremely cautious against stains, you should familiarize yourself with diverse techniques to deal with obstinate stains. Let us have a glance on those techniques that help your countertop or granite floor to get rid from various kinds of stains:
Ink stains:
You can deal with ink stains in an effective manner through using acetone or lacquer thinner. If floor of your house is also of granite, featuring any lighter shade, you can deal with ink stains through using hydrogen peroxide.
Wine stains:
In order to effectively deal with wine stains, make a paste that is comprised of bleach and molding plaster.
Tea and coffee stains:
Common stains like of tea and coffee can be effectively dealt with a mixture of ammonia and hydrogen peroxide.
Don'ts for Granite kitchen countertop:
Avoid placing vinegar, lemon and other kinds of acids on countertop.
While serving citrus juices, use coasters beneath your glass in order to protect the surface of countertop. A coaster is easily available in crockery shop. It is a tiny piece of plastic, wood or any other material that is used beneath a cup or glass in order to protect surface of countertop or dining table from stains and heat.
Do not use strong and harsh chemicals for cleansing granite countertops, floor, pillar, statute or any artifact. These cleansers will have a negative impact on the appearance of granite surface and the surface may lose its shine after some time. Thus, it is recommended to rely only on mild and soft cleansers for cleansing granite surface.