Granite Floor Tile: Best Option for Kitchen and Bathroom Flooring
Posted on Jul 25, 2013
Granite is one of the most preferred tiling options and is considered to be ideal for both kitchen and bathroom flooring. The tiles are available in various shapes, sizes, thickness, color and texture and are most durable as only diamond or another granite tile can make a scratch on this natural stone. Granite tiles are incredibly hardwearing and can also be used for outdoor paving, shopping malls, public squares or even for driveways and sidewalks, with right grout they tend to exhibit beautiful shiny appearance.
Few amongst many fishes available in the market are honed, polished, flamed, sawn, hammered, chiseled and natural split. The polished granite flooring is best suited for low traffic areas and has a radiant shine. Honed granite is usually used in busy traffic areas and has matte finish. Flamed also known as brushed granite is recommended for outdoor use. The split granites are undoubtedly best for flooring as it slip resistant and can be put into use for both indoor and outdoor purpose.

Granite tiles look unique and its beauty differs from tile to tile and never fails to make a mark and is extremely stable and rigid. These natural stone tiled floors are easy to clean and maintain and are long lasting option for home. However, granite stains easily if it is not cleaned immediately; it is also suggested to sweep or damp mop daily so as to avoid unknown spills from staining the granite floor tile. One can use soap and water to completely remove the stain, stubborn stains can also be treated with soda and water paste. Sealing granite provides it with extra protective layer from stains, and to make the granite shine even more one can get the tile polished for best results.
The sizes can be customized as per the need and are cut accordingly. Suppliers possess granite in stone form and chisel according to the requirement placed by the customer. Floor tiles require more thickness as compared to the wall tiles and the sizes are dependent on its thickness. The usual range for tile size is 300×300 to 900×900 and thickness ranging from 10 – 30 mm. Large format granite floor tiles have smooth finish as it creates few grout lines and are more in fashion as they leave behind a WOW factor. It is advisable to look out for tiles in stores apart from just surfing the internet as it gives clarity and aids in decision making.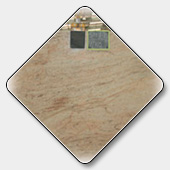 For a perfect pick one should keep note of the interior where the granite tile floor is to be installed, as the foot fall and the level of humidity of that area plays an important role in selecting the right kind of tile. Make sure the granite tile bought are free from cracks, scratches or any other defect, the correct calculation in terms of determining the number of tiles required for a given area is also important. For granite floor tile installation, only an experienced person should be considered as it requires more skill than installing countertop.