How is Indian Quartzite Tile Superior Than Any Synthetic Tiles?
Posted on Feb 7, 2019
Tiles made from natural stones have some unique features which are found only in them by the virtue of being the product of mineral substances quarried from the mines or mountains. Natural stones which include marble, slate, Quartzite, sandstone etc. are gifted with different properties and have over the years proved their exquisite uses, especially in architecture and construction of buildings where these stones never fail to add more beauty and charm to their walls, roofs and floors.
Natural stones are used as tiles, slabs, blocks or countertops at various places. However, there are other types of flooring and wall cladding options available in the form of ceramic tiles, either glazed or unglazed, which are manufactured in factories and are made from synthetic material but claim to be as strong, as durable and as water-resistant as the natural stone tiles but the million dollar question arises when it comes to choosing between natural and synthetic ones.
Here, we are in particular discussing Quartzite Tiles which are the product of a metamorphic rock that has been formed from sandstone. A metamorphic rock is one that has been altered by pressure deep within the earth's crust. These tiles are available in array of colours.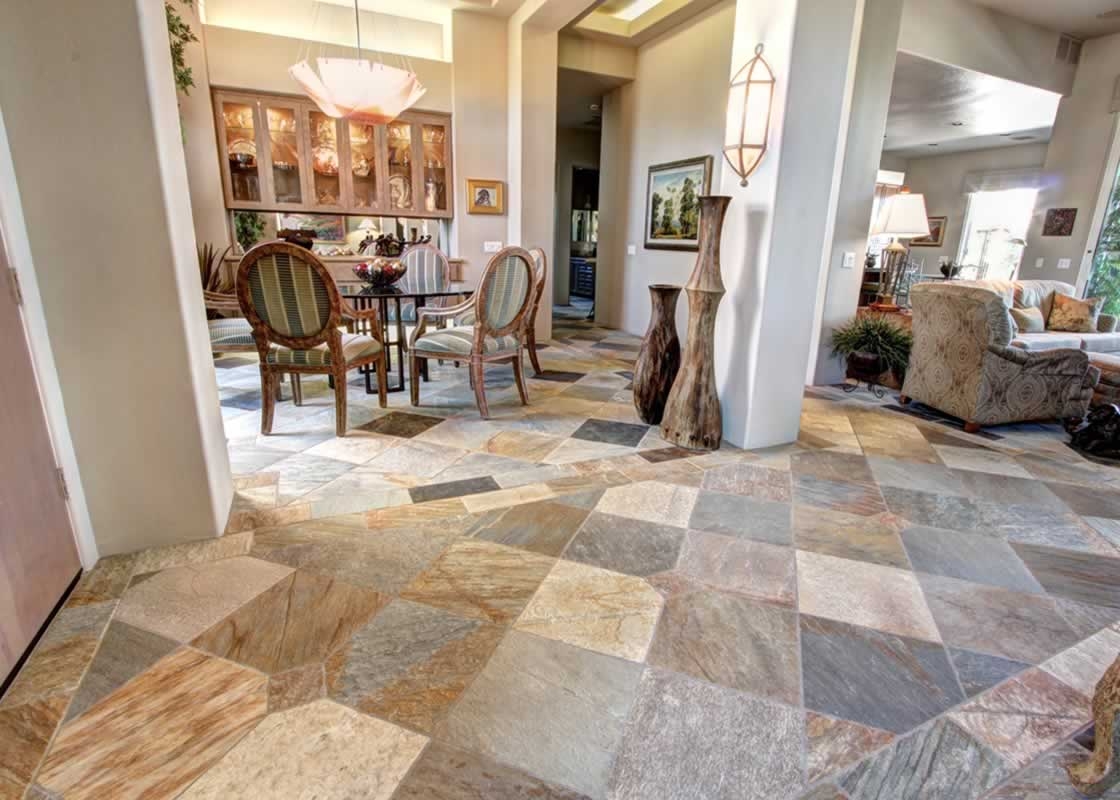 Quartzite Tiles give that perfect rustic yet classy look to any place they are installed. They are strong and porous which implies that they must be sealed to enjoy longevity. They add elegance and antique look to any structure giving them a sophisticated look. However they are sensitive to spills from acidic substances like vinegar or any other cleansing agent. In fact it would not be wrong to say that Quartzite tiles are best left in their natural state, except for the sealing which protects all the natural stones from discoloration or stains.
All they require to clean is simply mop your floor with water and soap solution and then a gentle wipe. These days, synthetic options like vinyl flooring or ceramic or porcelain tiles have given people cheaper and durable choices but when it comes to natural stone, there is no way that any material can compete with something like Quartzite tiles. When it comes to the finish, nothing looks as graceful as a Quartzite tile in its gentle tones adorning honed, natural or polished finish. No ceramic tiles can lead to that appeal or stunning effect as these tiles.
When it comes to shopping for Indian Quartzite Tiles, a few things must be kept in mind. Firstly, from where are you buying these tiles? It is always important to know who your suppliers are and what quality of tiles are they selling. Secondly, check the sample tiles first and choose your colours well. It is important to understand here that colours may vary because being natural, it is an expected factor. Thirdly, take expert advice from your sellers regarding the installation method, cleaning techniques and maintenance of these tiles if you wish to enjoy the lifelong happiness.
We at Elegant Natural Stones provide you with the best  Quartzite Tiles which we customise in size and dimension for our customers to match their specifications. We value your satisfaction at buying a great product at the most reasonable price.