How To Place Pebbles In Your Garden For Beautification & Function?
Posted on Apr 13, 2016
A garden can contain many things like plants, vegetables, herbs and even some decorative elements. It is an excellent idea to use pebbles in a garden as a part of decorative element because it adds to the color and character of it. Along with adding texture, it easily fills up the empty space, thereby creating a visual appeal. In fact, pebbles are much more interesting and aesthetically appealing than just oil, mulch or dirt. Along with serving a decorative purpose, it can even border the path of a landscape. It can even offer a ground and soil cover, and provide dry beds to your garden.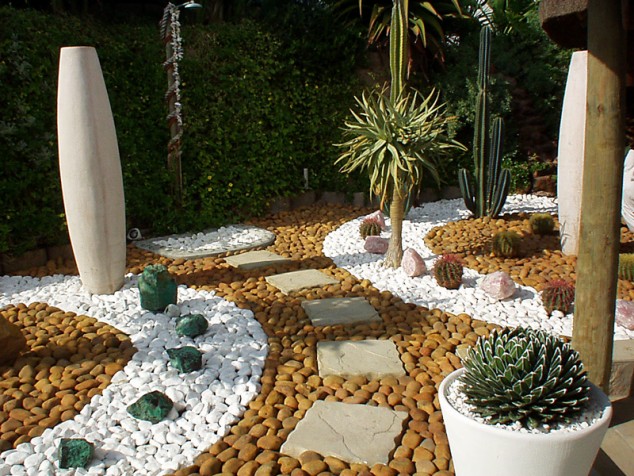 Now there are several steps that you can follow in order to place pebbles in your garden. Have a look at few of the simple, but crucial steps in this context.
First of all, you should prepare the space in your garden to place the pebbles. For this, you should measure the amount of space that you want to dedicate for these items. Apart from that, you should make sure that drainage system is adequate in that area. The base covered with pebbles can be anything from soil, grass, pavement and sand.
Once you decided on the base material or the dirt that you want to cover with them, you will have to put a weed mat. The main purpose of the mat is to restrict the growth of weeds coming through the pebbles. You will be happy to know that this in turn will even keep the base material or soil from getting mixed with the pebbles.
Now it is time to make the selection of the pebbles. These are available in various shapes and sizes ranging from round, flat, elliptical and oval smooth surfaces of minerals. You can even find them in different colors and textures. If you want, you can combine different shapes, sizes, colors and textures. However, make sure to use one consistent color like pink, gray or white and consequently you can mix other shades with it.
Get the pebbles in the area where it has to be laid. You can use a wheelbarrow to get the desired quantities of the same. Following this, you will have to spread the pebbles over the desired area in your garden. If the need arises, you should arrange them by hand, especially around the plants. You even need to spread them evenly in larger areas so that it is covered appropriately.
Once you place the pebbles, you will find that they will create a clean and visual impact along with a decorative appearance. If some adjustments are required, you can add or remove some of them.
Therefore, by now, you must have become aware that placing pebbles in your garden to beautify the look will not at all be a difficult situation for you. You will just have to select the best pebbles and use the right technique so that you can get it done at once. Visit online Indian Granite Suppliers as they also keep varieties of pebbles, cobbles, etc.