Add a touch of elegance to your home décor through gorgeous marble paintings
Posted on Jul 1, 2013
A marble painting is created by using marble as a base. Marble paintings are created by using a lovely variety of marble stones. The origin of work of art created on marble, is believed to be from the country called India. This country is renowned for its rich art and marble painting is one such fascinating element of that rich art, wherein various images featuring intricate pattern are skillfully crafted on the marbles and other natural stones. Work of art created out of marble, appears mesmerizing due to possessing striking colors. Investing in a fine image portrayed on a delicate and durable marble stone is an excellent way to add a touch of style and elegance to your home décor.
History of marble paintings:
It is believed that an art of portraying a beautiful and colorful image on a marble stone was originated in one of the renowned state of India called Rajasthan, during the 16th century. That time, it was Rajput dynasty that was ruling over the state. Gradually, the popularity of marble paintings began to rise due to possessing fascinating beauty,   distinctive designs and durability. Since they are also cost-effective, the majority of the people find them ideal for enhancing the elegance of their home décor. We see that, work of art portrayed on the exquisite marble stones also find its way to enhance the appeal of the interior and exterior décor of the hotels.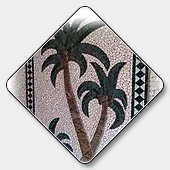 How a marble painting is created?
Usually, a thin tile of marble is used for creating a design so that the weight of the painting remains manageable. First of all, a sketch of a design is made on the marble tile. An intricate pattern is created on those portions where gold work is required. After letting it dry completely, gold leaves are stick on the relief work and thereby other colors are used on the remaining portion of a tile. Various materials like beads, sequins, semi-precious and precious stones, etc may be used on a tile. However, gold relief work is done in order to add grandeur to the image. For creating an awe-inspiring image, an artist requires great level of patience and painstaking efforts. It is due to their meticulous efforts only, a simple piece of marble turns into a remarkable piece of art.
Applications of marble paintings:
A work of art created on the marble base may be affixed on table for the purpose of using it as a table top. It can also serve the purpose of wall hanging. A marble painting can be hanged in a lobby of hotels and restaurants, drawing room, living room, bedroom, corridors, etc.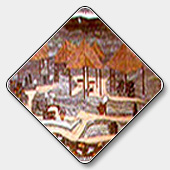 Creating an image on marble stone through using various striking and vibrant colors is basically a versatile form of art. Another aspect that compels the people to invest in Marble paintings is the availability of numerous themes and myriad colors. When a pure white marble is used as a base and it is manually painted with various popular cultural motifs using gold, it appears outstanding. In order to protect the painting, usually a textured wooden frame is used. This frame not only protects it from breakage, but it also enhances its artistic appeal.