Make Your Kitchen Shine with High-End Countertops
Posted on Feb 7, 2022
Only the kitchen is the best spot to make lasting memories. It is genuinely referred to as the "heart of the house" because it embraces all of the family's emotional, happiest, saddest, and most crucial moments. Every family member's needs must be met when it comes to kitchen design and aesthetics. A magnificent countertop island that allows you to see everything around you, a nook that has been changed into a sitting area where you can rest and gossip, and a well-designed and textured cabinet that keeps your kitchen clean and up-to-date.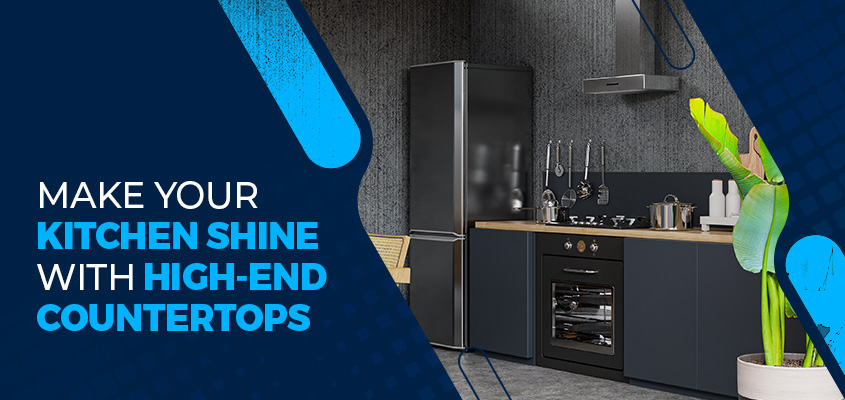 Kitchen aesthetic and feel never be overlooked as it is the only place where we spend most of our family time. Here are high-end countertops designs that make your kitchen look elegant:
1. Natural Stone Countertop
The most common material for kitchen countertops is marble stone. It gives the entire kitchen a timeless appearance. Natural stone countertop in off-white provides a roomy impression with an exquisite touch. Although marble is prone to stains and scratches, it should be cleaned with a soft cloth and a light cleanser to maintain the smoothness and gloss of the countertops.
2. Wooden Countertop
Wooden countertops are most suitable for the cold region. These have an amazing look and feel of warmth. Walnut, cherry, maple, teak, and mahogany are the popular wood species for manufacturing kitchen countertops. It gives the entire kitchen an ethnic look, and because of its rough surface and irregular shape, you won't have to clean it as often. Keep an eye out for cuts and scratches that give your kitchen counter surfaces a more natural appearance.
3. Dark Kitchen Countertops
Dark is not just a shade but the hue of style and richness that overshadow all other colors. Dark shades on kitchen countertops are a modern-day décor trend. It looks amazingly pleasing and sleek. Dark kitchen cabinets in granite or quartz material are inviting and sophisticated. You can experiment with light-colored cabinets and dark countertops. The combination gives a great appearance to the entire kitchen.
4. Kitchen Countertops with Light Cabinetry Scheme
Light colors make your kitchen look even spacious and more vibrant. Furthermore, because white kitchen cabinets are versatile, they may accommodate countertops of any design and texture. As a result, light cabinet combinations are numerous. You can choose the countertop and cabinet tone contrast that you want.
5. Laminated Countertops
Laminated countertops are less expensive and it gives flawless finishing with a resistant surface. It is easier to clean these countertops which can be available in beautiful shades and designs. Laminated countertops look classy and retain their brilliance after every cleaning. It also protects the undersurface of the countertop from scratches, stains, and any sort of physical impact.
These are some of the most popular countertops surfacing options in kitchen countertop design and style. These countertops are the best for every house owner because of their unequaled durability, grace, and strength. Combining cabinets and countertops styles can result in a stunning kitchen.