Give a Facelift to your house by adding stone pillars
Posted on May 29, 2013
The décor of the house or the beauty of any architecture can truly reach to the new heights through the addition of the Stone pillars. By having a glimpse upon the famous traditional architectures of the numerous countries, we realize that they have been an integral part of them. A stone is such an element that can really add uniqueness to any architectural structure. When an element of stone is added to a house in the form of a stone pillar, it can truly enhance the elegance of the house. A stone pillar is basically a tall and vertical structure, featuring a cylindrical shape and it stands upright and often used in order to support a structure. Natural Stone pillars are also known as stone columns. Stone columns, featuring round shape are basically a part of the long-established Irish heritage. The specialty of them lies in fact that they can be used in any kind of environment including farm settings to private homes. People love to invest in them as they create an identity with the traditional heritage that invokes a nostalgic feeling. If you are curious to know about the diverse kinds of stone pillars, here have a glance: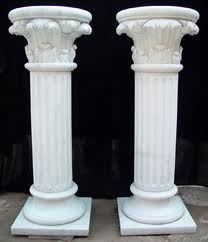 Sandstone pillars: They are truly competent of adding an element of sophistication to any structure including, homes, buildings, religious architectures, etc.
Natural stone pillars: Be it an entrance of the home or be it a garden gate, the pillars made up of natural stone are extremely competent of giving a facelift to the entire décor of the house. The variety regarding the styles and patterns is huge. If you want to create a unique statement, you should think about investing in the pillars made up of superior quality natural stone that offers a glimpse of premier level of engineering and design.
Portico pillars: They are known for their skillful carvings and speak the language of elegance and grace. They are ideal for the construction of the royal palaces. If you want to construct a larger-than- life home or palace, you should think about Portico pillars.
Antique pillars: They are capable of enhancing the aesthetic appeal of any architecture including home, office, buildings, etc. If you want to create an elegant aura inside and around your architecture and want to show the creative side of yours, you should think about investing in skillfully crafted antique pillars.
Heritage pillars: They appear magnificent in almost all kinds of architecture. The biggest attractive appeal of them lies in their affordability. They can be installed in residences and they also appear outstanding in buildings meant for commercial purposes. They are decorative; create a modern style statement, dimensionally accurate. Availability of numerous shades further enhances their attractiveness.
Landscape stone pillars: They are ideal for garden. They offer an elegant look and perfect finish. If you want to enhance the beauty of your garden décor, investing in landscape stone pillars, made up of superior quality stones, would be a great idea.
If you really want to add a touch of elegance and want to show artistic side of your personality, stone pillars prove to be a great home décor product.