TOP 4 BATHROOM FLOORING IDEAS
Posted on Feb 3, 2018
Selecting a bathroom floor is very different from choosing a flooring option for other areas of the home. Once you've taken into account variables such as aesthetics, cost and durability, you have to consider another factor: moisture.
Water exists in bathrooms and if you choose the wrong type of natural stone, it will decay rather quickly.
Avoid this issue from the get go by selecting one of the following four bathroom flooring ideas: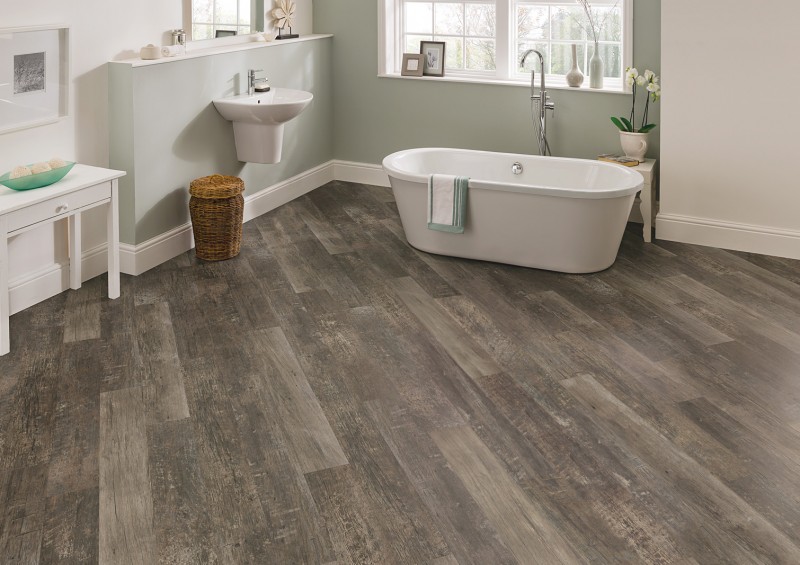 1. Ceramic or Porcelain Tile
Porcelain is one of the leading choices for bathroom floors. It is stylish, waterproof and cost-effective. Like stone, this tile has a textured, solid and rich feel to it. And like vinyl, it is friendly on the pockets as well as waterproof.
Porcelain tiles are a part of ceramics with a key difference: increased ability to repel water absorption. According to the Porcelain Tile Certification Agency, a tile is labelled as "porcelain" if it has a water absorption level of less than 0.5%.
There are many benefits to selecting ceramic or porcelain tiles. You can opt for a tile that mimics the look of stone or wood. These tiles are available in many different shapes and sizes, i.e. hexagonal, octagonal, etc. You may get even more creative by using tinted grout or small mosaic tiles pre-mounted on mesh sheets.
Cleaning up a ceramic tile is quite simple as this material easily resists water puddles.
Although standing on a ceramic tile might feel cold, you can counter this issue by opting for heated or radiant tile. Similarly, the slippery textured can be avoided by installing smaller size tiles. This introduces more grout which provides a non-skid surface.
2. Natural Stone
Natural stone is another excellent flooring option for bathroom floors. Stones such as granite and slate are ideal for this environment as they are capable of withstanding moisture. Other stones like limestone, sandstone and marble are more suitable for bedrooms and kitchens. Adding a coat of sealant protects the stone from wear and tear. Similar to porcelain tile, natural stone may feel cold and slippery under the feet. To combat these issues, you may install radiant heating and textured stone. Indian natural stone is a luxurious bathroom flooring option and will definitely increase the value of your home during resale.
3. Vinyl
Many do-it-yourself enthusiasts opt for vinyl floors due to their supreme practicality and good aesthetics. This type of floor can be quickly installed in a weekend and there are numerous style options to choose from.
If you're expecting large amounts of water, i.e. in children's bathrooms, then consider installing sheet vinyl. This type of vinyl has zero seams meaning water will not penetrate through it. For a more luxurious look, opt for luxury vinyl plank flooring.
4. Engineered Wood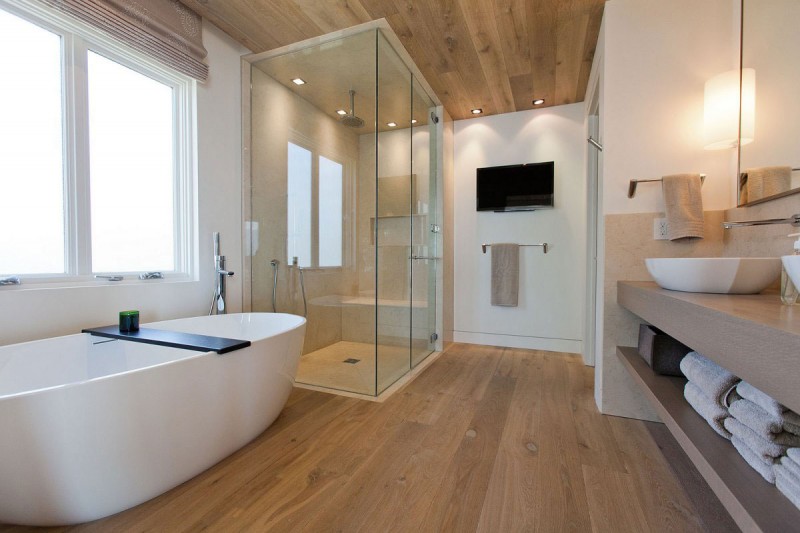 This type of floor consists of a plywood base that is capable of withstanding moisture. The top layer is made up of wood. Engineered wood has more dimensional stability than solid wood. It definitely won't warp in a moist environment.
When selecting a bathroom flooring option, consider factors such as aesthetics, cost, durability and ability to withstand moisture.