Top 5 Exceptional Varieties of Indian sandstone tiles since Ages
Posted on Feb 1, 2016
World's most massive constructions are invariably made of Indian sandstone tiles and slabs. Even as granite and marble continue to feature heavily in the monuments owing to their sturdy foundational quality, it is the Indian sandstone exported by Indian Sandstone Supplier remains as the most popular building material for exterior walls, pavements and statue making.
There are more than 450 different varieties of Indian sandstone tiles. Most of them are classified as per the location from which they are quarried. Sandstone is India is spread over its entire geographical boundary. Here are some of the most iconic and popular range of Indian sandstone tiles that you may explore to grace your house or office.
1    Athgarh Sandstone
These are part of Gondwana sandstone reserves formed millions of years ago from the union of two major landmasses of the Pangea. They are found exclusively in Bihar and Orissa. Known for their dark black and grey colour, these Indian sandstone tiles are belong to the same family as those used in Konark Temple, Lord Jaganath Puri Temple and other monuments in Cuttack, Bhubaneswar and Puri.
Some reserves in Khondagiri and Udayagiri Caves are now protected by the Archaeological Survey of India.
2    Himmat Nagar Sandstone
These stones belong to the Creataceous and Pre-Jurassic Era. They have significant amount of limestone and fossil items. Together with the Nimar Sandstone and Dhrangdhara sandstone tiles, they form a formidable trio of building materials used in the Deccan India. They feature prominently in major monuments built in Chattisgarh, Madhya Pradesh and Andhra Pradesh.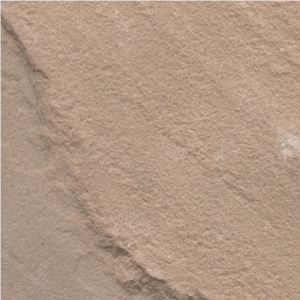 3    Cuddalore Sandstone
Almost all major monuments built along the Eastern coast down South have significant representation of the Cuddalore sandstone tiles and slabs. Used extensively for its religious association with Lord Shiva and Lord Vishnu, these sandstones form the base of all Hindu temples in Andhra Pradesh, Tamil Nadu, Karnataka and Orissa. Ramasehwaram Temple and Rajamahendara temple exude the beauty even today, hundreds of years after their inception.
4     Kota Jhalawar sandstone
Gujarat palaces and Rajasthan homes feature astonishing volume of sandstone tiles in their premises. Sandstone does not get hot and cools down faster than the marbles. They are available in white buff, pale red, cream, tan and brown shades.
Kota Jhalawar variety of tiles is used majorly in areas where temperatures soar higher than 40 degrees and largely arid. Other varieties used with this sandstone variety are Dholpur sandstone, Madhopur and Chittorgarh sandstone tiles.
5    Jodhpur Pink
The pink sandstone tiles belong to the cluster of Jodhpur and Nagaur. It is also called as Rajpura Pink and Tera Red. The other shades available in the range are beige, lilac and off white. Jodhpur pink sandstone tiles are used to construct Umaid Bhawan, Jaswant Thada, Mehrangarh Fort and many other monuments of national and international importance.
Jodhpur sandstone tiles are exported to places like Dubai, Sharjah, Korea, Tokyo, Manila, Sydney and Brussels for its unquestionable quality, royal appeal and resilience. Other clusters where Jodhpur pink is quarried from are Bada Bagh, Hamira, Bedasar, Habur and Mokal.