Top 6 Popular Choices in Granite for Bathroom
Posted on Feb 22, 2016
Looking for a subtle yet expressive bathroom design made of Indian granite? From royal palace in Middle East to 7 star hotels in the Far West, Indian granite stone wholesalers have been supplying some of the best variants to the rich, the popular and the celebrated.
Here are top 6 choices in granite varieties used exclusively for bathroom designs.
1    Cafe Bahia
Numero Uno. This is the one of the costliest granite stone to ever grace a commercial property. Preferred for its dusky surface finish hazed with light red clouds, Cafe Bahia is available in 3 different colour shades. Ideal for blue Mediterranean styled bathrooms, the bathroom lining can be blended with white marble. The closest stone variety that comes close to its appearance is the Black quartzite.
2    Verde Lavara
Eloquent as if designed by a poet, Verde Lavara is second most popular granite tile variant used exclusively for swimming pools and bathrooms. Preferred for open-sky bathrooms, its charcoal appeal is further enhanced when blended with green slate stone and blue sandstone. Verde Lavara tiles are also used with Dholpur Red sandstone in the construction of sink countertops.
3    Almond Granite
There are two popular varieties in the Almond Indian granite tile catalogue. They are:
Almond Light
Almond Mauve
Both these varieties are available with the Indian granite wholesalers. Almond Light resembles grainy charcoal beach, while the Almond Mauve has a subtle brown red mottled appeal. Almond Mauve granite is costlier than the other stone variety by virtue of its consistent colour and hardness gradient.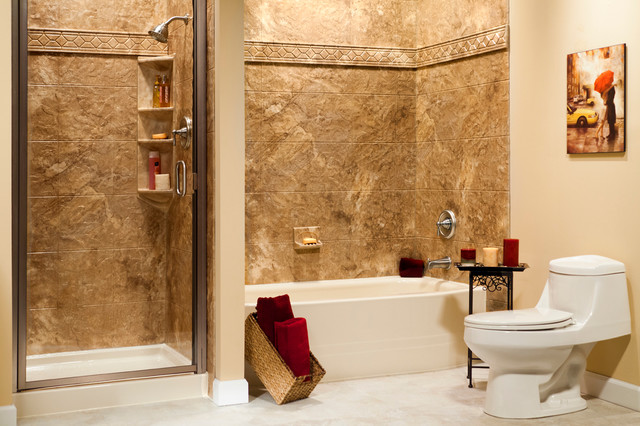 4    Peacock Green
Popular among the beach resort owners, Peacock Green granite exudes the freshness of a mint bush. The silver speckles with red streaks give the natural stone a rather regale appeal. Perfect for bathrooms that have thatched rooftops, the tile variety tends to glow in natural sunlight due to shiny crystals embedded on the surface.
5    Juparna Boreal
Also called the Golden Dawn, the fascinating granite tile is the most ergonomically advantageous stone. It is preferred by the hotel owners who tend to extend a rather subtle experience to their guests. Easy on the eyes, the Juparna Boreal is easy to coordinate with sandstones and slates. Marbles may not be the best option if you are planning to spread this granite as a sink countertop too.
If you are looking for something more tantalising to the core, you can check out alternatives like Golden Leaf and Kashmir Gold. For those who embrace imperfection as a way of life, New Venetian Gold granite is also a rather smart option.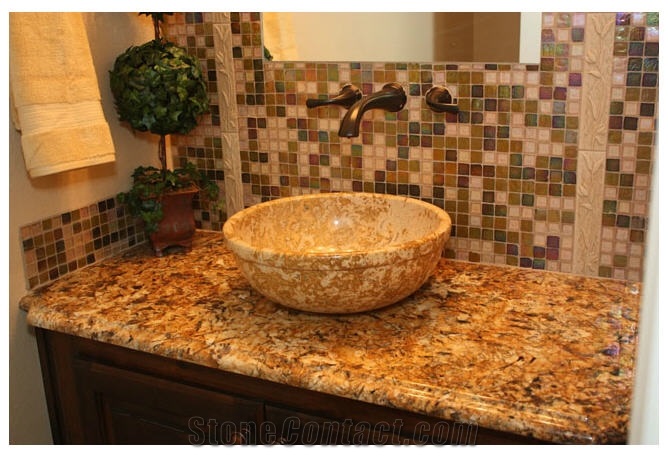 6    Volga Blue
Recreate the aristocratic bathroom appeal of the Russian designers with Volga Blue. It is an electrifying set piece.  With dark blue and purple streaks running along the surface, it has one of the glossiest appearances. Indian granite tile suppliers recommend the blend of Volga Blue with Luna Pearl and Black Pearl to enhance the beauty of the bathroom.  You can also try Moon Valley and Kashmir White if you are experimenting with contrasts.