Top 6 Popular Indian Natural Landscape Stone
Posted on Nov 16, 2015
Natural stones are quintessentially used for landscaping purposes as well in addition to construction and flooring applications. Landscape tiles offered by the Indian granite suppliers and Indian marble exporters customarily includes vibrant shades of every popular stone ranging from the glossy quartzite to scuffed sandstone. A landscape model constitute of enticing features of the earth. It could be the Savannah grassland or the Siberian cold desert. Indian tile manufactures and supplies also offer slabs etched with flora and fauna features.
Here is a quick review on the 6 popular Indian natural landscape stone collection making big waves in International market.
1.    Beige and Green Sandstone Fountain
This is the top-selling Indian sandstone slab and tile collection used extensively for cascading waterfalls and fountain designs. It is also used in bathroom and sinks. Beige is often susceptible to algae growth and water percolation. This is arrested by using a high-quality 0.5 mm synthetic sealant.
2.    Jaipur Pink Slate stone bench
Gardens and parks are often dotted with this colourful stone landscape benches. They are heavy and beautiful. Though they are soft in nature, they can easily last a century. With a seating capacity of 3 people, this hard-surface is the ideal landscape item for outdoor seating. It is resistant to algae growth and cracks due to thermal variation.
3.    Chocolate Brown Mud Table
International event management teams are lining up for this rustic looking mud table from the sandstone family. The Indian sandstone tiles in Chocolate shade are very popular as standing tops and benches. It is preferred in bench setting and parks, especially when you have to match up with the food stall styling. It can be easily cut into slabs and smaller tiles. Chips are used to decorate the wall claddings.
4.    Maple Green Indian quartzite wash basin
The maple green is a prestigious item in the Indian quartzite tiles collection. The series is often desired for outdoor basin models and fountains. The patterns on the quartzite tile are reminiscent of the dark forest land. It also has zinc and feldspar speckles that sparkle when exposed to natural light. If you are planning to deck up your bathroom with a royal touch of luxury, maple green wash basin is a great landscape element.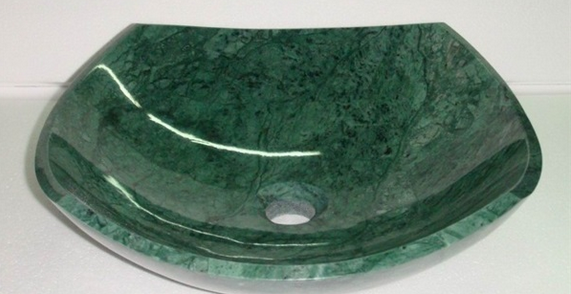 5.    Grey Black Indian Granite cobbles
Grey black granite supplied by the Indian granite exporters is something you just can't miss! The chips styled tiles are laid out at the entrances leading to your cherished garden area or the fountain. It can be also laid out in the bathroom floor. Owing to its resistance to slips and chipping, it is a preferred material for kitchen as well.
6.    Aquamarine slate stone berth
Give your windows a glowing appeal with this Aquamarine elegance from the landscape segment of Indian slate stone tiles. Styled to bring the peace of a beach-side, the aquamarine tile series is easy on the eye and retinas its glow even years after it was first laid. It can be also used to line up pillars and columns for a very refined ambience.