Using Indian Granite Tiles In Office
Posted on Aug 17, 2021
Granite rock is hard, crystalline, granular, and igneous. It is available in light colors with visible dark colored granules forming unique colorful patterns and designs.
Granite rock is composed of mostly Feldspar and Quartz. There are also small amounts of Amphiboles, Mica, and other minerals.
How is Granite formed?
Granite rock is formed from the slow crystallization of Magma present below the Earth's surface of Earth. These rocks can be crushed into stones that are used for roads and can also be used for constructing buildings and countertops.
Tiles manufactured from Granite rocks are installed on floors and walls of rooms. Both Granite countertops and tiles can be used in offices for providing a rich, polished finish.
What is Granite used for?
Granite rocks are manufactured into different useful forms, such as Indian natural Granite slabs and tiles. The slabs that are available in the market as big gang sawed slabs, mini gang sawed slabs, and cutter size slabs (half Granite slabs). Tiles made of Granite rocks are sold as calibrated and beveled tiles and cut sized tiles.
Granite tiles are mainly installed on floors and walls of homes, offices, and workplaces. Meanwhile, countertops, vanity tops, and worktops have to be made with solid Granite rocks. These are made after cutting them into required shapes and sizes.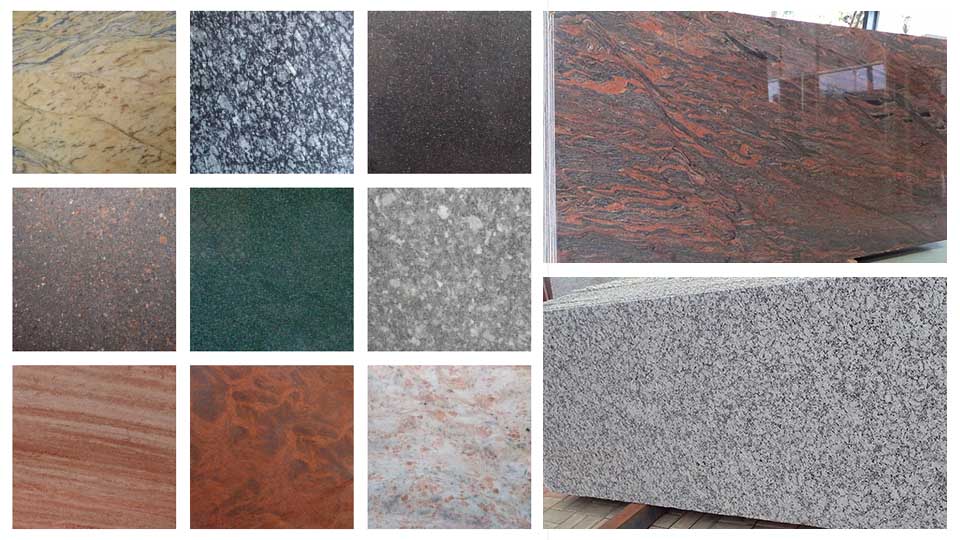 Crucial reasons for using Granite
Here are five outstanding reasons for using tiles made from Indian Granite in the office.
● Advantageous properties of Indian Granite
Raw Indian Granite has compressive strength, density, p-wave velocity, and tensile. Polished Granite shows uniform coloring, granularity, texture, suitable hardness, moisture content, porosity, and water absorption.
Since Indian Granite is harder than marble, it does not dent and has a higher resistance to wear-and-tear. Granite can be bush-hammered, flamed, honed, polished, and split-faced for modifying it into any form.
● Good appearance and aesthetics
Covering office floors and walls with Indian Granite Tiles makes them attractive. Granite tiles are available in a wide range of creative designs made of exciting patterns and colors.
● Resistant to wear and tear
Tiles made of Granite rocks last forever. This is because Granite rocks are hard, robust, durable, and resistant to stains and scratches. Granite tiles can be placed and used in areas prone to getting stained and scratched.
● Long-lasting
Tiles made of Indian Granite rock are dependable and durable, making those last for years. Use the Granite tiles for covering floors of the office that draw heavy traffic. These Granite tiles help in sealing floors, retain great luster, and still maintain their sturdiness.
● Boosts the value of your property
Installing Indian Granite Tiles in the office automatically hikes the overall value of the property. These tiles add durability and quality to the floors. Granite tiles are porous and absorb coolness from air conditioners used in hot summer months. People who spend their waking hours in offices in hot countries should opt for Granite tiles.
Elegant Natural Stones supplies tiles made of top quality Indian Granite. They also provide an installation service for the flooring and walls in your office. Simply call them or send an email to get in touch.