Why Is Quartzite Flooring The Most Preferred One?
Posted on Mar 7, 2018
Quartzite is a hard, non-foliated rock which was originally pure quartz sandstone and converted into quartzite through heating and pressure due to tectonic compression. Pure quartzite is white to grey , though at times can be found in pink, red yellow, green blue and orange due to the presence of iron and other minerals. Indian Natural Quartzite Flooring is very resistant to chemical weathering. We have the Taj Mahal, as the live example of strength, durability, longevity and damage resistance.
It is a decorative stone and is used as roof tiles, to cover walls, flooring and stairs. It is hard and stain resistant. Quartzite in present times, have become a popular choice with designers and those who are getting their new houses built. The reason behind this being a preferred stone is, its elegant looks and long lasting quality. It is heat resistant and it matches marble in looks and finish though it requires lesser care and is stronger. The ridges present in quartzite make it more interesting than any other natural stone.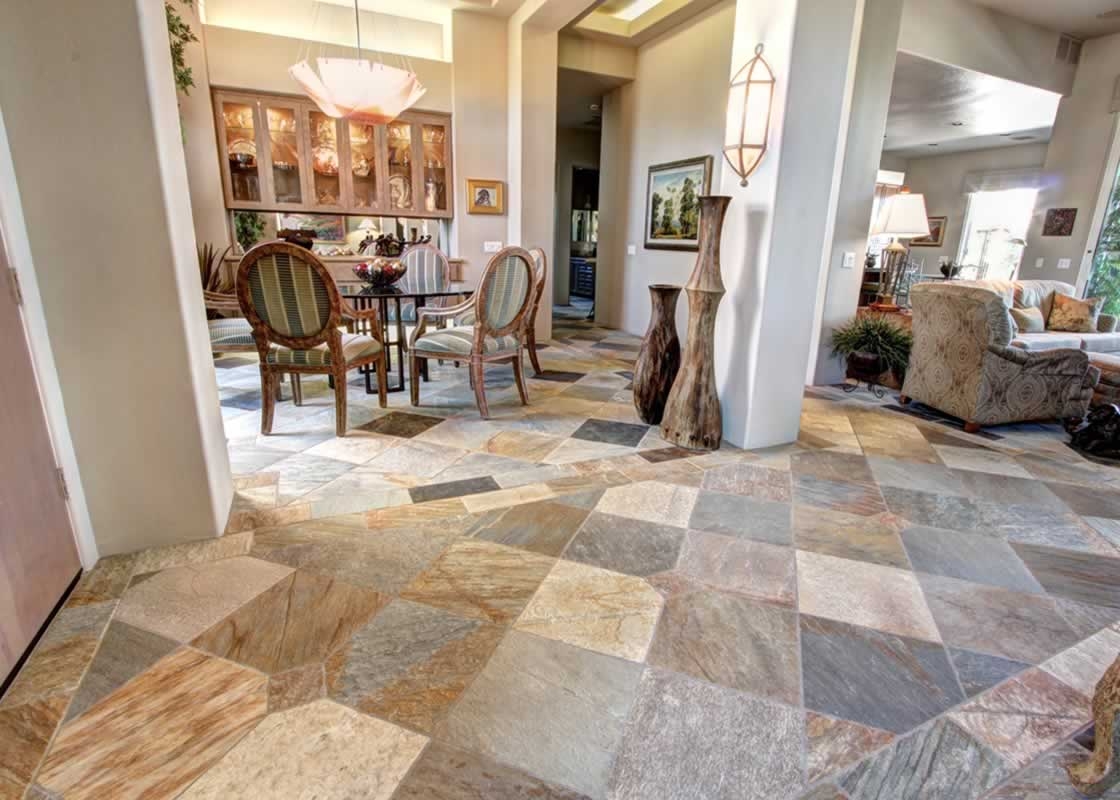 When it comes to flooring of a place, be it a house, office, hotel or any other building, Quartzite Flooring is a first choice as it is durable, strong and does not lose its sheen with time, rather with use it beautifies further. It looks traditional but gels very well with contemporary designs as the colours of this pure stone blend well with any colour scheme one wishes to follow. Stone flooring for bathrooms and kitchens is a trendy style giving a traditional look.
Moreover quartzite is resistant to ultraviolet rays which gives one freedom to use it even where you get a lot of sunlight. It is non-porous, so doesn't absorb any liquid; thus prevents any bacterial growth. It is a low maintenance stone which will never bother you once you get it fixed and it being non-slippery, is safe for children, pets and aged in the family. Its glossy surface lends elegance and sophistication to the flooring of any place.
Elegant Natural Stones is a leading manufacturer and exporter of quartzite stone and flooring tiles, quartzite chips, strips and with lot of variety to beautify your floors and give them a unique look. We customise our sizes and specifications to match the requirements of our clients. As this a natural stone, each stone varies in its features. So, one may expect variation in color, tone or texture.
We believe in providing the best services to our clients as we understand your needs and for us it is not a mere stone. It is your dreams of a heavenly place which we bring to life. These floors speak for themselves the story of beauty, tradition and splendour earning you many compliments on your aesthetic taste.